STAGE DECORATION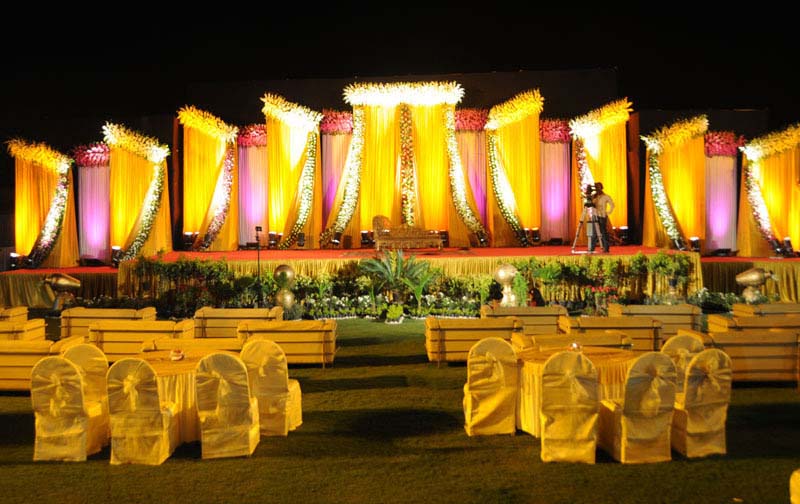 You are at the centre stage and everyone's eyes are on you. You start searching for your woman and there she is, through the space in between the highly decorated ornamental columns, well lit ambience, sparkling centre stage, amidst the glaring people, with lights flashing from the camera, you get to see a glimpse of the beautiful woman you are about to marry and spend the rest of your life. The moment defines the ultimate happiness and we are happy that you sought us to make everything special!
"ELEGANT! BREATHTAKING! BREEZY! WONDERFUL! STUNNING! AMAZING! SPARKLING! We are totally lack of adjectives to describe about the wonderful wedding stage decoration in your wedding." Isn't it nice to hear some great reviews about your wedding stage decoration from your friends and relations alike?
Wedding. There is only one special day in your life and if you want your wedding to be celebrated in a grand way, make it highly memorable and fabulous with our experienced marriage stage decorations and wedding planners. Right from ethnic, cultural, religious style, to the currently popular designer themes, we cater to all demands and provide the right and bright atmosphere for you to enjoy with our multifarious wedding stage designs and wedding planners.
Our event management, wedding planners and wedding stage designers never miss any details. They understand the nuances and are experienced in making the stage decorations of your event an important part of the overall blasting celebrations.
We work closely with you to thoroughly understand you to ensure that your day is creatively presented with best wedding stage designs, spectacular scenic backdrops with balloon decorations and wonderful stages with flower decorations. If you are looking for complete wedding stage decorations, reach out for us and you will be surprised!